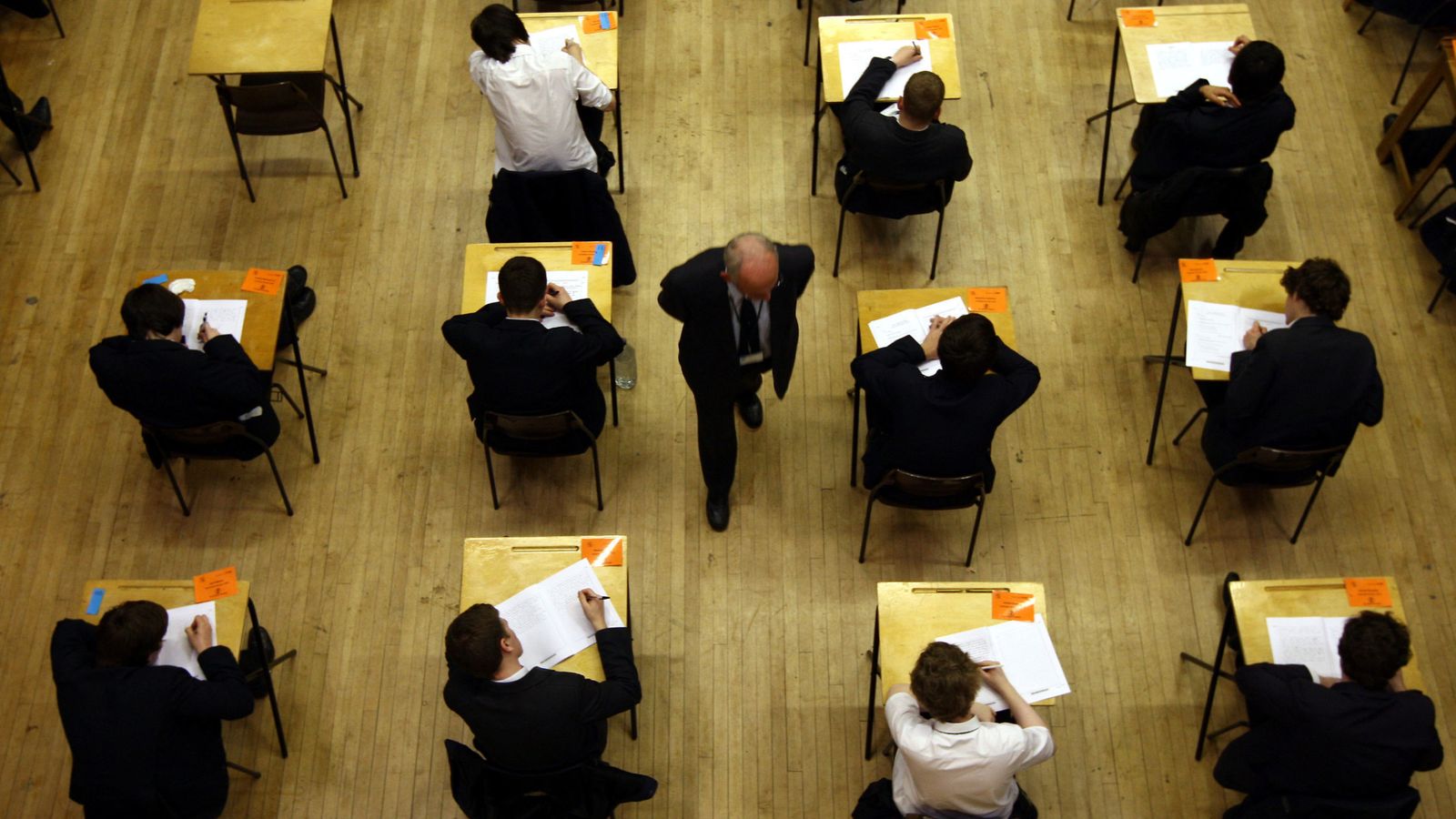 A-levels: Thousands could miss out on top college picks as pre-COVID grades return | UK News
Thousands of students could miss out on their first choice of college in what is expected to be the most competitive year ever for tuition.
The proportion of students with top grades could fall by almost 10 percentage points from last year – a prediction backed by the government which expects a similar trend in 2023.
It comes after 2021 students received teacher-determined grades rather than exams due to the COVID-19 pandemic.
Professor Alan Smithers, director of the Center for Education and Employment Research at the University of Buckingham, said there could be 80,000 fewer better grades – A* or A – awarded than in 2021 , which means that some 40,000 students could miss their course or their university. of choice.
"Universities have responded to the teacher appraisal boom in top classes by increasing requirements and reducing firm offers. For many who left school this year, the hard work has not ended with A levelbut starts again on the day of the results in the hunt for the coveted places," he said.
"Due to declining top marks, approximately 40,000 applicants could miss their first choice, although there could be as many as 60,000."
Professor Smithers predicted 2022 pass rates could see 35% of applicants receive an A* or A grade, up from 44.8% of applicants last year.
The overall pass rate (A* to E grades) in 2021 was 99.5%, and some 88.5% received a C or higher, up from 88.0% in 2020 and the highest since at least 2000.
Read more:
Few schools and colleges will do better in GCSE and A-Level than last year
He believes that this month, 82% of candidates will get an A* to C grade and 98.5% will get an A* to E grade.
A spokesman for exams regulator Ofqual said there was "no link between grades and the supply of places".
He said: "While there may be fewer better grades this year compared to 2021, when a different assessment method (teacher-assessed grades) was used, universities understand what it will be like. overall ratings this year and made offers accordingly."
Follow the Daily podcast onapple podcast, google podcast, Spotify, Loud speaker
Sarah Hannafin, senior policy adviser for head teachers' union NAHT, called on universities to be flexible and work with students "to get them on the right courses and the right paths for their future" after taking into account "the disruptions that this year's students have experienced".
A spokesperson for the Department for Education said: "Competition for places at the most selective universities has always been high and this year is no different – but there will still be plenty of options for students. , either at another university, through compensation, or through high-quality career options that are just as prestigious and rewarding as academic pathways."