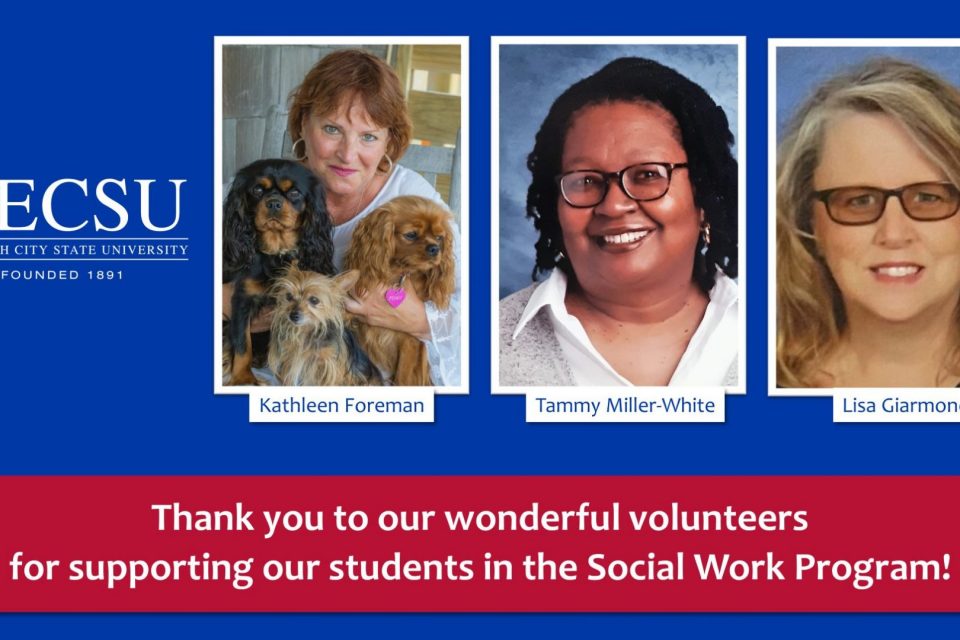 ECSU Celebrates Volunteer Social Work Instructors – Elizabeth City State University
March is National Social Work Month – a time to recognize and honor caring professional social workers who work in hospitals, mental health centers, schools, social service agencies, community centers, nursing homes and more. ECSU offers a Bachelor of Social Work (BSW) degree, and one of the major components of the program is on-the-job education which provides students with the opportunity to complete internships. The program recognized three field instructors with more than 32 years of combined service: Kathleen Foreman (13), Lisa Giarmono (10), and Tammy Miller-White (9).
Foreman, Giarmono, and Miller-White offer internships in their organizations to guide students through the field education portion of their ECSU BSW degree. Students integrate knowledge gained in the classroom with practical experience while working with individuals, families, groups, organizations, and communities. They are supervised by these experienced instructors and the field placement internship is essential to the professional development of these social work students.
"During your lifetime, a social worker will likely help you, a family member or friend with issues ranging from long-term care to addictions to finding community resources to support you, and your family. Social workers help us live and thrive," said Dr. Kim Downing, Director of ECSU's Social Work Program. "Our dedicated field instructors provide supervision and training to our graduating seniors, and they are essential to our social work program."
Kathleen Foreman
Kathleen Foreman was born in Cleveland, Ohio, and moved to the Outer Banks of North Carolina in 1980. She graduated in 1993 from East Carolina University with a degree in criminal justice, and in 1994 began her career in as the first victims' advocate for Hopeline, which offers crisis intervention and suicide prevention services by phone or text.
Ms. Foreman was promoted to district administrator of the Guardian ad Litem program for the First Judicial District in 1995. In her role as administrator, she recruits, trains and supervises community volunteers to advocate for abused and neglected children. She oversees more than 100 volunteers who defend approximately 125 children in the judicial district.
Ms. Foreman holds a master's degree in public administration from UNC Pembroke.
Lisa Giarmono
Lisa Giarmono is an experienced school counselor for the Elizabeth City-Pasquotank Public School System (ECPPS) who knows the importance of preparing 21st century students for a global society. For the past 21 years, Ms. Giarmono has been an advocate, collaborator and leader in promoting equity and access for all students, families and colleagues.
From a young age, Lisa Giarmono has been driven to pursue her passion for helping people. She earned her BSW at Barton College and completed her Masters in School Counseling. Ms. Giarmono was a vocational rehabilitation counselor in Wilson, North Carolina for three years before returning home to work for ECPPS where she took on additional roles and responsibilities such as school counselor mentor, regional trainer in positive behavioral interventions and supports (PBIS). , field instructor for ECSU's social work program and field instructor for graduate school counseling trainees.
Recently, she joined the ECP Backpack Board of Directors to help organize the weekend food program. Lisa enjoys spending time with her husband Anthony of 26 years and their two sons Joseph (22) and Thomas (17). She enjoys traveling, all things Disney and relaxing by the ocean.
Tammy Miller-White
Tammy Miller-White is the Dean of Students at the Perquimans County Schools Accelerated Learning Center.
Ms. Miller-White has worked in the field of education for over 25 years. For the past nine years, she has volunteered as a field instructor to supervise and prepare students to become competent, effective and professional generalist social work practitioners through the student internship component of the ECSU BSW program .
She is a proud graduate of ECSU and has earned both a bachelor's degree in sociology/social work and a master's degree in educational administration. Ms. Miller-White also earned a Masters in Special Education (MSpED).
His life philosophy is simple: be passionate, ethical and knowledgeable about what you do. Mrs. Miller-White says that an educational proverb to follow is: "Teach a wise man and he will be still wiser; teach a righteous man, and he will add to his knowledge.


Post views:
109
---