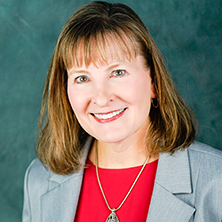 Former named CEO of Developmental Disabilities Institute
Seton Hall Alumna Kim M. Kubasek '85 Has Been Named Chief Executive Officer of Developmental Disabilities Institute (DDI), a New York-based nonprofit organization that provides special education and therapeutic intervention services to adults and children with autism and other developmental disabilities.
Ms. Kubasek was previously chief operating officer of DDI since joining the organization in 2010.
"Kim's credentials, tenure and knowledge of DDI's programs, services and regulatory landscape have made her the clear choice to lead the organization," said Russell Snaith, Chairman of the Board of DDI. administration of DDI. "She is passionate about helping the children and adults in DDI's care achieve their personal growth and fulfillment. We are confident that Kim will continue to drive results, drive innovation and serve as an inspiration. throughout the agency.
Ms. Kubasek earned her Bachelor of Arts, Summa Cum Laude, from Seton Hall, where she majored in psychology and earned a certificate in gerontology. In addition, she earned an MBA in Health Care Administration from Bernard M. Baruch College, Mount Sinai School of Medicine in New York.
Kubasek graduated valedictorian of her class and remembers her experience at Seton Hall as a trainer, both professionally and personally.
"In many ways, my time at Seton Hall set the stage for my future success," Kubasek said. "In line with my Catholic values, my college experience confirmed to me that I wanted a career that combined management and human services – the ability to use my skills for purpose-driven work."
Kubasek also recalls that the certificate program in gerontology was a unique offering at Seton Hall during his college years. "It gave me a deep appreciation for the importance of a multidisciplinary approach to wellness and aging and really fueled my interest in health care administration and long-term care. My college internships have also been valuable learning experiences and I have continued to participate in mentorship and internship opportunities as an employer throughout my career."
Ms. Kubasek's professional career includes seventeen years in health care administration, during which time she served as vice president of administration at both Staten Island University Hospital and St. Charles in Port Jefferson, NY. She then joined United Cerebral Palsy of Long Island based in Hauppauge, NY as Chief Operating Officer, a position she held for six years.
In addition to her educational and professional accomplishments, Ms. Kubasek is a Fellow of the American College of Healthcare Executives and a Fellow of Healthcare Leaders of New York. She is also involved in several community organizations, including as a catechist at Saints Phillips & James Religious Education in St. James, NY; a tutor at Literacy Suffolk; and she is a board member of Jefferson's Ferry, a nonprofit retirement community in East Setauket, NY.
Ms. Kubasek and her husband, Gregory A. Shemitz, a photojournalist, reside in Stony Brook, NY.
About the Developmental Disabilities Institute
For more than 60 years, Developmental Disabilities Institute (DDI) has provided compassionate personal care to meet the emotional, educational, therapeutic, and vocational needs of children and adults with autism and other developmental disabilities. Founded by parents of children with developmental disabilities, DDI has grown into a dynamic, non-profit, multi-site agency serving the more than 1,600 children and adults we care for every day. The parental influence continues with many of our board members being the mothers and fathers of the people we serve. DDI recognizes that each person we care for has unique needs and deserves every opportunity to live a rich and meaningful life. Over six decades, we have built a strong reputation for providing exceptional service to everyone in our programs, especially those who present the greatest challenges. With a workforce comprised of people inspired by purpose®, DDI delivers the highest standards of personalized services from expertly trained, caring and knowledgeable staff. For more information, visit http://www.ddiny.org.