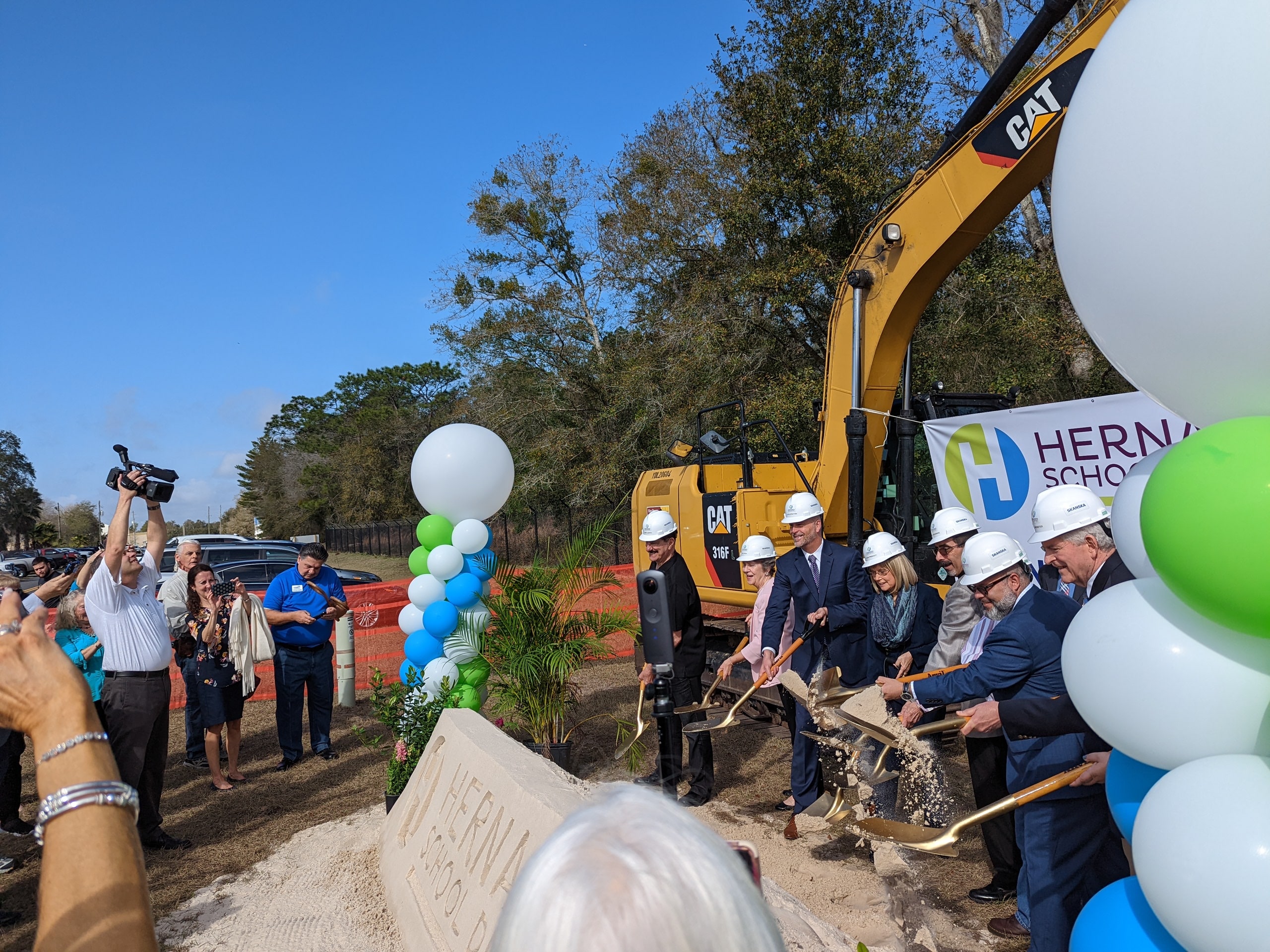 Local Dignitaries Inaugurate Autonomous Vocational School
On Friday, February 18, school board members, school administrators and other dignitaries opened a new Adult/Technical Education Complex and County Government Center. It will be named the Dr. Dennis Wilfong Technology and Government Center in honor of a former businessman and "local hero" who dedicated his life to humanitarian projects in this region. Wilfong died last year of complications from Covid-19.
School superintendent John Stratton and school board members Susan Duval, Gus Guadagnino, Kay Hatch, Jimmy Lodato and Linda Prescott attended the dedication ceremony. County Administrator Jeff Rogers represented the Hernando County government. Sophia Watson, Director of Adult and Technical Education, considered the project's "think tank," made some remarks, as did US Congressman Daniel Webster (District 11).
Daniel Abou-Jaoude, vice-president of Skanska Corporation, also attended the inauguration of the works. Skanska, a multinational construction company, will construct the resort located on 17.94 acres near the Brooksville-Tampa Bay Regional Airport. This property was purchased from the federal government for $1,794,000.
Abou-Jaoude said: "Our goals for the project are really simple: cost, time and people. We want to be great stewards of money. We want to maximize the investment that the state is making in Hernando… Our goal is to deliver this facility on budget and on time, but we want to deliver it with local labor and we're not talking about businesses and suppliers in Hernando or Central Florida – we're talking about people who live here and work here.
He said the project's chief superintendent, Francis Coons, is a resident of Hernando County. Coons is also a graduate of Pasco Hernando State College. "Over the next few months, Frank will lead an outreach effort right here in Hernando and surrounding counties to interest, engage and get people excited about the project," Abou-Jaoude said.
After years of preparation, the project is a collaboration between Pasco Hernando State College, Suncoast Technical Education Center, Hernando County School District and the Hernando County government.
School Superintendent John Stratton commented: "It shows what happens when government entities work together. This puts us [Hernando County] On the map."
Director of Adult and Technical Education Sophia Watson reiterated Stratton's sentiments.
"It's a top-down approach and everyone is on board with this project. It will add so much to what we already offer," Ms Watson said.
Currently, there are seven different community sites that offer technical and career training, as well as GED and ESOL (English for Speakers of Other Languages) courses. Some of these vocational and technical classes are welding, cosmetology, law enforcement, construction apprenticeships, and medical laboratories, such as phlebotomy. These locations will still be open after the new center is completed.
The educational complex will meet the needs of people who do not go to university but want to learn a trade. There will also be classrooms set up for people to earn their General Education Development (GED) certificate, an alternative to a high school diploma. The good thing is that the building will be used all year round, during the day for high school students and in the evening for adults. The goal is to open the school in August 2023.
Thanks to the efforts of Florida State Senator Wilton Simpson, State Representative Ralph Massullo, State Representative Blaise Ingoglia and other lawmakers, the county received a $6 million grant to prepare the site and for the necessary infrastructure. This includes everything from leveling the ground, to setting up roads and traffic lights, to making sure there is adequate drainage.
Massullo sponsored a bill in the House of Representatives allocating $9.3 million to build the 30,000-square-foot Hernando School System facility, and Simpson lobbied for its passage through the Senate. It took five years to get the bill from the legislature to the governor's office for him to sign.
School board member Jimmy Lodato observed, "This is the future of our children. When you get 1,500 kids to graduate and 500 don't go to college, what do you do with them? »
School board member Susan Duval said, "The ribbon-cutting ceremony was the culmination of a vision and a commitment made by many people over the past twenty years. The fact that we are now on the verge of building the facility indicates what perseverance can accomplish. »
Kay Hatch, another school board member, added, "We are grateful to everyone involved in this project. We can only imagine the impact this will have.
The Hernando Sun will follow with more articles outlining more details as the project progresses.
Slogan: Rendering of the complex (Image courtesy of the Department of Adult and Technical Education)