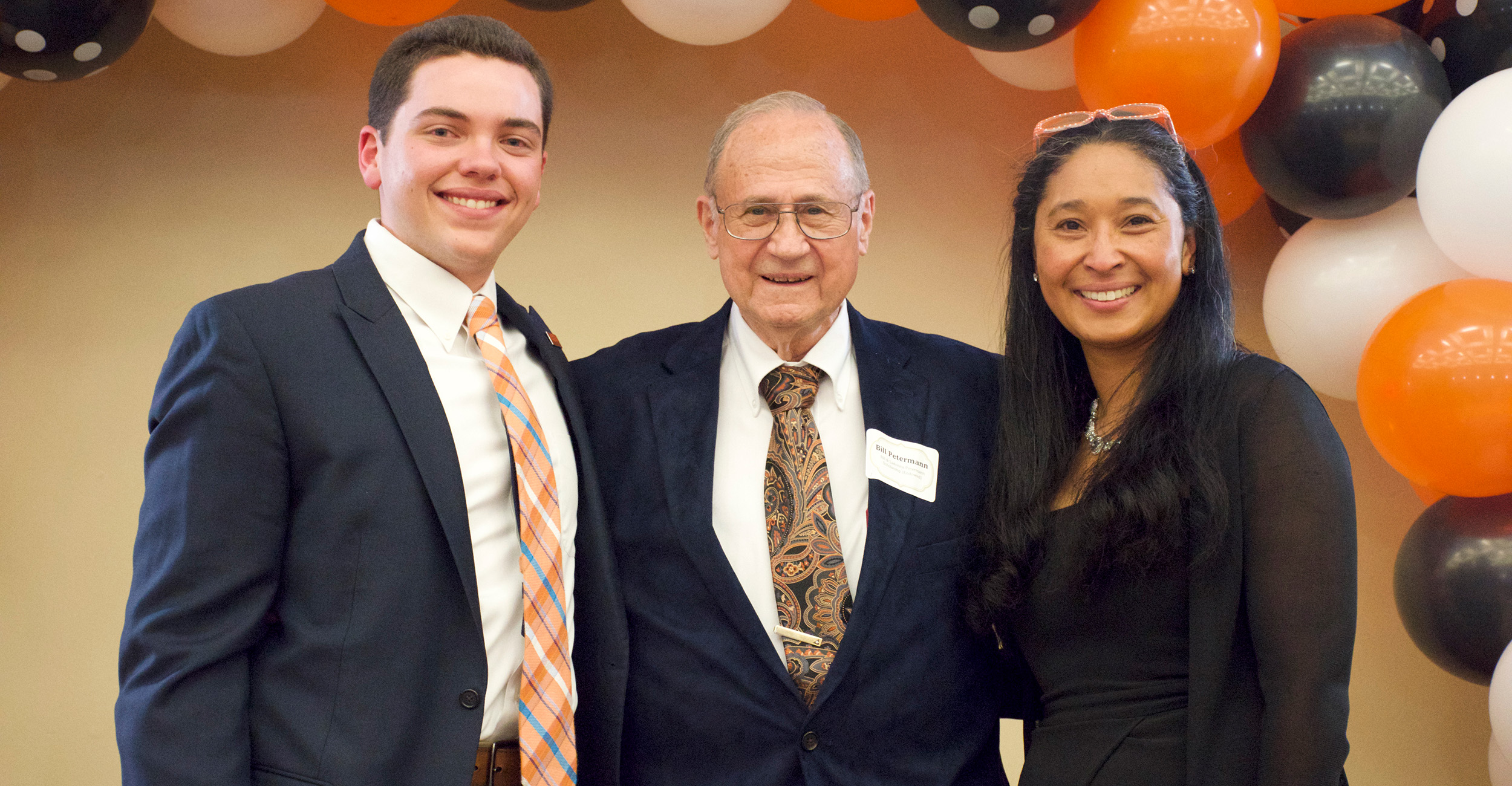 Retired engineer invests in a new generation of students
Friday, June 10, 2022
Media contact: Jami Mattox | Agricultural Communications Services | 405-744-7063 | [email protected]
Bill Petermann, a 1960 graduate of OSU with a degree in agricultural engineering, was surprised last spring when a group of OSU students from the student chapter of the American Society of Agricultural and Biological Engineers arrived on his lawn.
The small army of students got to work cleaning the gutters, raking the leaves, mowing, weeding the garden, removing honeysuckle from the fence, organizing equipment and more. The students participated in In the streetsa day when student organizations at OSU help members of the Stillwater community with household or garden chores.
Petermann was delighted to discover that the group of students sent to work on his projects were pursuing a career path similar to the one he enjoyed for 38 years as an agricultural engineer working primarily on watershed and agricultural projects. irrigation. He has spent nearly his entire career with the USDA's Natural Resources Conservation Service, serving farmers and ranchers in Oklahoma.
The more students there, the more Petermann got to know them.
"It reminded me of when I was in school," Petermann said. "They just looked like a family."
Collin Bellmer, ASABE president and student at OSU Department of Biosystems and Agricultural Engineeringwas just as surprised as everyone when he learned of Petermann's background.
"It was a crazy coincidence," Bellmer said. "My first thought was, 'What are the chances of that happening? ""
Mattie Wood, an ASABE historian and biosystems engineering student, said that while everyone was happy to help Petermann, the fact that he was a fellow engineer further motivated the volunteers.
"We recognized that we were giving back to the engineers who came before us," Wood said. "It was rewarding to do something tangible to help her."
Petermann felt a camaraderie with the group.
"I was so surprised when I found out they were part of an organization I had been in and enjoyed (as a student)," Petermann said. "It brought back so many memories for me."
Memories like trips to the dance hall on the fourth floor of the Student Union where students could socialize; grab a soda and dance to the latest songs from Elvis Presley, Frank Sinatra and Johnny Cash; carpooling to campus every day with four of his buddies; and work on the School of Engineering publication.
It also reminded him of his financial needs during his time at OSU.
Petermann was the first in his family to attend college in 1955. Although his parents did not have traditional educational opportunities, they understood the importance of a quality education and encouraged Petermann to to pursue studies.
But funding was a problem.
"My professional agriculture professor gave me a scholarship application to complete with Sears and Roebuck," Petermann said. "They awarded it to me."
The scholarship paid his full tuition during his freshman year, and after his freshman year in agricultural engineering, he "caught the bug."
Engineering A legacy
After the grass was cut, the weeds pulled and the gutters cleaned, Petermann wrote thank you notes to each of the volunteers to express his gratitude.
"A thank you seems so short after you have given me so much," Petermann wrote in a letter to Wood after the event.
A year later, the first Bill and Ladonna Petermann Scholarship was awarded at the Department of Biosystems and Agricultural Engineering Scholarship Banquet in March 2022.
Petermann said he considered starting a scholarship for the department for a while, but Into the Streets was the ultimate catalyst for him. He acknowledged the importance of quality engineers in the future of the agriculture industry, saying he is excited about the innovations he has seen since leaving the field. Petermann also said he wanted to help ease financial pressures for students so they can enjoy their time at college without the stress of an impending tuition bill.
"I wanted to encourage someone to get involved in campus activities while they're in school in hopes that they'll stay involved," Petermann said.
Taos McIntyre, a junior biosystems engineering student, was the first recipient of the Bill and Ladonna Petermann Scholarship.
"I think it's really interesting how something like Into the Streets can lead to such a deep connection between current students and alumni," McIntyre said.
Petermann and McIntyre met at the banquet.
"I could tell the banquet was very emotional for the Petermann family as there were a lot of important reasons behind the scholarship and why they decided to donate," McIntyre said. "Seeing that meaning and seeing how important it was to them made me feel very lucky to have been able to meet them."
---
Story by: Hunter Gibson