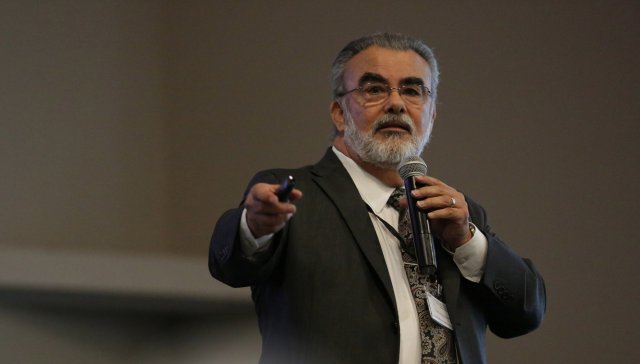 The journey continues | California Lutheran University
Being at Oxford University in England, speaking at Oxford Union Hall, was a once-in-a-lifetime out-of-body experience. Yet I was there, a member of the "Oxford Round Table", in 2005.
Very little in my life could have allowed me to imagine that I would be in England at this time and in this place.
I grew up in Saticoy, an unincorporated community east of Ventura in Ventura County, California. Although I started out as a kindergarten student at Saticoy Elementary School, Mexican-American students seemed like an afterthought in the district because we were bussed across town for college until this that a new school be built closer to Saticoy.
Academic expectations were low for Latino (Mexican American was the term used at the time) students like me. In high school, it was not uncommon for Latino students to graduate without seeing a counselor to learn more about applying to college. Counselors—unless they were ahead of their time—steered Latinos toward professional classes. They didn't even suggest the idea of ​​academics beyond high school.
After high school, I wandered around a bit, failing classes at Ventura College because I wasn't going to class. In the fall of 1966, I volunteered for the draft and entered the army in January 1967 – not a good time for failing college. I ended up serving as an infantryman on the border between North Korea and South Korea, also known as "the Zone". After performing night patrols in the DMZ for 13 months, in December 1968 I received my discharge from the army and returned home to begin the next phase of life's journey.
In 1985, after many years as a civil servant, then four years as manager of an agricultural packing plant in Oxnard, I lost my job due to a change in direction by the owner. I was 37 and my wife and I (we married in 1967) had three children. I had earned a number of units at Ventura College with an embarrassing GPA and didn't know where to turn.
But the adage "when one door closes, another opens" was about to come true for me.
Growing up, I was always one of the smallest but fast athletes. Sports like baseball and football gave me the opportunity to use two things that allowed me to thrive: my speed and my anger. My mother died when I was 4, and I didn't do well when my father remarried. I was in and out of the house, living with my older brother and other relatives until I moved in with another family for the last two years of high school.
Playing sports has always been my lifeline and has finally changed the direction of my life. At 37, I met a former football teammate who was the head coach of a local high school football team. When he asked, "Do you want to serve as a walk-in coach?" I said yes. I also returned to Ventura Community College – as an actual student who earned a spot on the Dean's List as well as my associate degree.
However, my school career was far from over. As a husband and father, I knew my choice of graduate school had to be a local university so that I wouldn't be far from home. Cal Lutheran was my choice.
I clearly remember my first visit and the respect I felt for the university when I walked onto campus and saw my name displayed on a small sign, welcoming me. For someone who didn't believe that higher education was in my future, it was of immense significance, and I will never forget the rest of my time at Cal Lutheran. I went on to earn my BA, a teaching diploma and a Masters in Counseling and Guidance at Cal Lutheran.
I don't think I would have had so much success at any other university. Cal Lutheran was small enough for me to develop close and lasting relationships with faculty and administrators. They treated me like a student, but also like an adult, with special respect because I was an older, freshman student. I wasn't an "academic", I was just an average guy learning a lot of the classes for the first time.
Around 2000, a district administrator asked me a question that opened my eyes to a new possibility: "When are you going to get your doctorate?" I replied, "I'm too old to get a doctorate. Yet I applied and was admitted to UCLA's Instructional Leadership Doctoral Program and graduated in 2004, with a thesis titled "Lending a Helping Hand: Mentoring Tomorrow's Latina and Latino Leaders Into the 21st Century".
I presented the results of this thesis to a group of international education leaders at the Oxford Education Leadership Roundtable in 2005, which was a fantastic experience and a new start in my journey of leadership. Soon after, I became a faculty member at California State University, Fresno, and eventually became director of the doctoral program in educational leadership. My way of working with students in the master's and doctoral programs was greatly influenced by the way I was treated at Cal Lutheran.
I retired from Fresno State in 2018 and am now the founder and CEO of the Center for Leadership, Equity, and Research (CLEAR; information at clearvoz.com), a nonprofit organization in central valley of California. The organization, launched in 2011, develops and mentors social justice leaders, tackles inequality, and provides educators from kindergarten through tertiary education the opportunity to learn from and get to know each other.
CLEAR has also developed the Journal of Leadership, Equity and Research (JLER), with articles mostly written by people of color. Because the journal is indexed, it helps scholars seeking tenure-track positions but who have struggled to get into publishing. We also offer leadership development workshops and work with school districts to teach them cultural competency and how to discuss diversity, inclusion, equity and race.
I never thought I would get a college degree, let alone a doctorate. So many of my peers who grew up at the same time didn't have the opportunity and access to go to college, and I often thought I was representing them in my journey.
But my journey did not stop at "retirement". There is still too much work to do. The journey continues.
Ken Magdaleno is the founder and CEO of the Center for Leadership, Equity and Research (CLEAR). He can be reached at [email protected] or linkedin.com/in/clearvoz. Visit CLEAR online at www.clearvoz.com.